MOTION CAPTURE
Complete studio with marker & markerless solutions, including operator, movement technology, wireless suites for real-time VR fullbody tracking and data cleansing service for animation.
3D GRAPHICS & CGI DEVELOPMENT
Unsere CG-Fähigkeiten ermöglichen es uns, komplette Umgebungen von Grund auf in der virtuellen Realität zu erstellen und Full-Motion-Videos zu erstellen. Deine Fantasie ist wirklich die Grenze. Wir spezialisieren uns auch darauf, CG und reales Video zu fusionieren und simulierte und anpassbare Live-VR-Umgebungen zu entwickeln.
3D GRAPHICS & CGI DEVELOPMENT
Our CGI capabilities allow us to create complete environments from scratch in virtual reality and create full-motion videos. Your imagination is really the limit. We also specialize in merging CG and real video to create simulated and customizable live VR environments.
INNOVATIONS UNIT
Consisting of an interdisciplinary team of experts in multi-sensory solutions. From haptic feedback, fragrance communication, specialized hardware design and construction. Closely connected with cognition and scientists of applied computer science, engineering and system engineers.
Wir haben interne VR-Regisseure und 360° senior Experten, Kameratechniker, 360° Postpro Teams und App-Entwickler. Wir können in 3D (stereoskopisch) sowie 360 drehen und bearbeiten. Alle unsere Arbeiten können wir mit binauralem Sound erfassen.
360° FILM
We have internal VR directors and 360 ° senior experts, camera technicians, 360 ° postpro teams and app developers. We can rotate and edit in 3D (stereoscopic) as well as 360. All our work can be captured with binaural sound
Wir verwenden fortgeschrittenen 360° Spatial Sound, um VR-Erfahrungen zu vervollständigen. Immersives Audio wird bei der Produktion von VR-Filmen oft übersehen, aber es ist einer der wichtigsten Bestandteile. Es dient auch als eine nuancierte Storytelling-Hilfe, die Benutzer auf subtile Weise auffordert, sich in den von uns erstellten virtuellen Welten zurechtzufinden. 360° Spatial Sound ist mit jedem 3D-Sound-Setup und auch dynamischen binauralen VR-Erlebnissen kompatibel.
MUSIC & RECORDING STUDIO
We use advanced 360 ° Spatial Sound to complete VR experiences. Immersive audio is often overlooked in the production of VR movies, but it is one of the most important components. It also serves as a nuanced storytelling aid that subtly encourages users to navigate the virtual worlds we create. 360 ° Spatial Sound is compatible with any 3D sound setup and dynamic binaural VR experiences.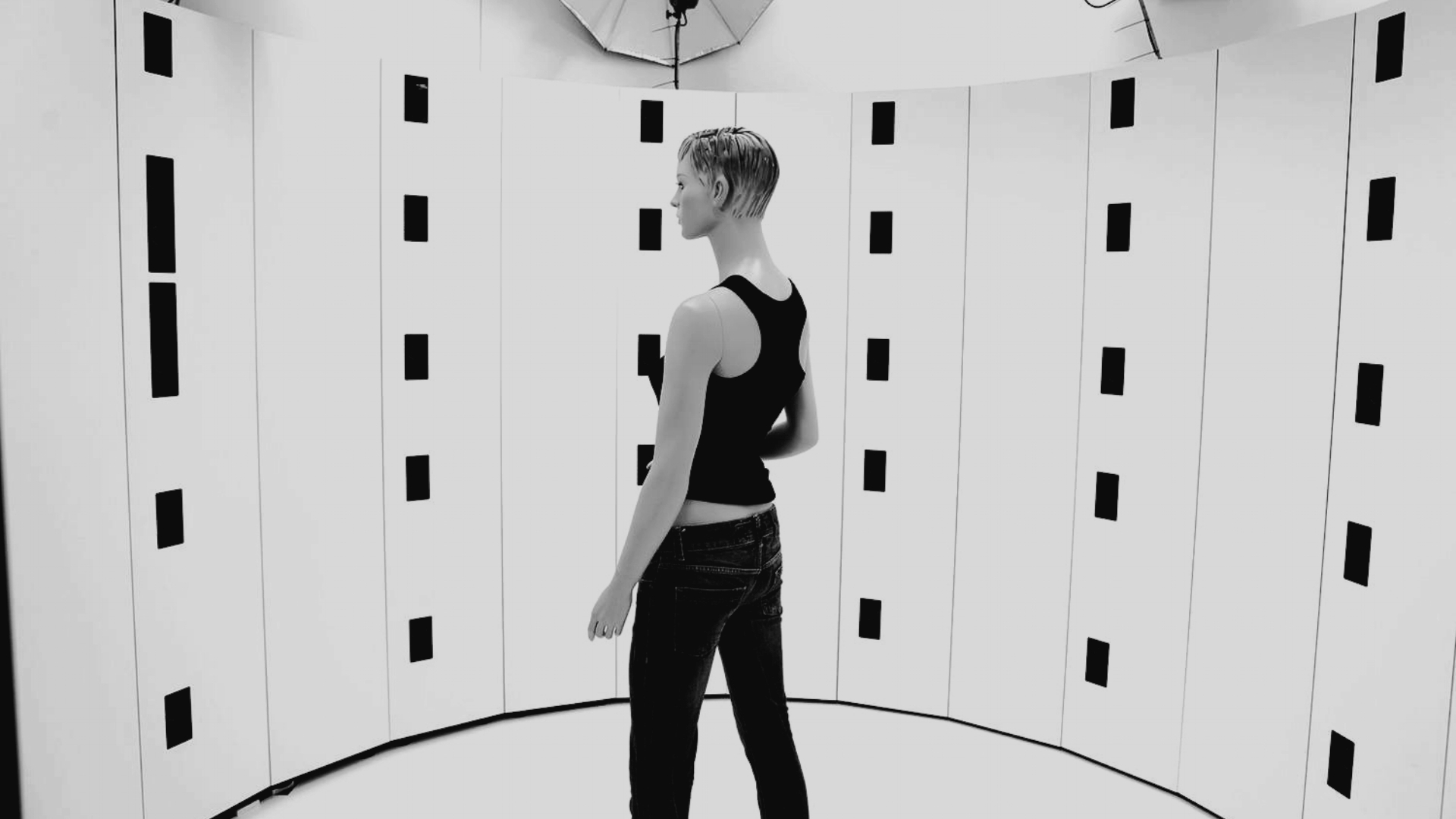 FULLBODY 3D SCANNER
Our in-house 3D Scanning Platform for fast and high quality whole body scans, including Skeleton Rigging and Retopology Pipeline.
EVENT IMPLEMENTATION
The best VR experiences in terms of your live communication, brand and corporate vision. Seamless integration of VR solutions into your event, exhibition or roadshow.